//= do_shortcode('[in-content-square]') ?>
A new £16 million production line will create 100 jobs at a major Welsh bakery.
The investment in the fast-growing Jones Village Bakery in Wrexham has been hailed as a major boost to the local economy.
State-of-the-art equipment is housed in the family business's new 140,000 square foot bakery on the Wrexham industrial estate.
According to the company, it will be the most advanced production line in the world and it is expected to be operational in July.
Supply and installation are orchestrated by project manager Christien Jones.
The bespoke 85-metre-long line was configured to exacting company specifications, with most of the equipment sourced from a specialist Dutch supplier.
According to Mr. Jones, it is the "perfect marriage" between the latest technologies and the traditional know-how of artisan baking that has made the company famous.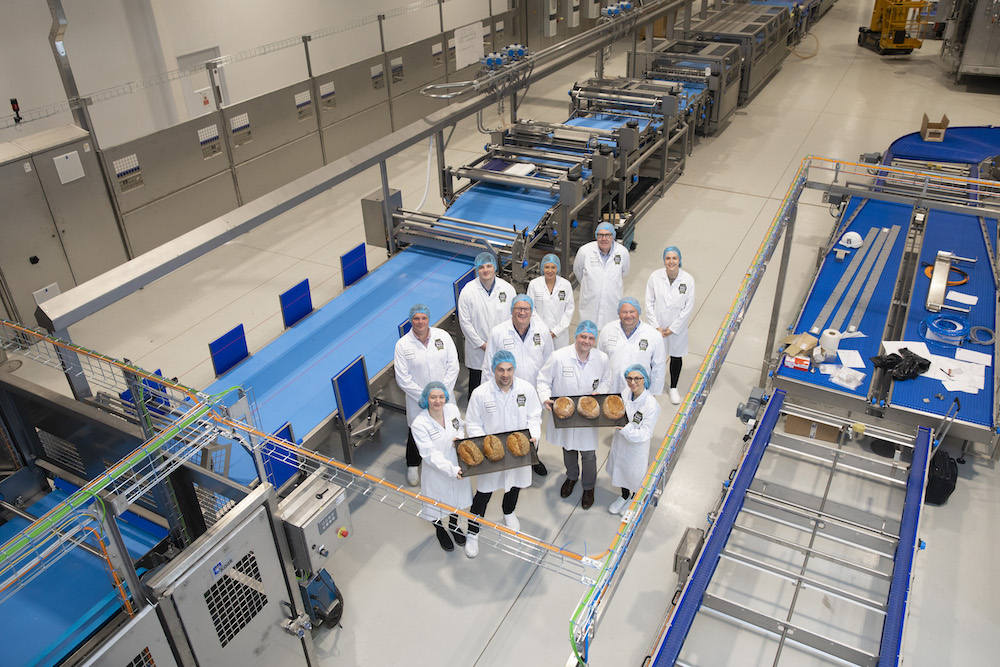 He said: "Essentially it's a larger-scale artisan bakery line, so we still have the influence of the master artisan baker, but we've removed the mundane tasks like lifting and carrying.
"I don't believe there's anything like that in the world right now.
"We've put a lot of pieces together to create the full range which is very special, but it's all about the bread and really it's about slowing down bread production.
"The process, including fermentation, through to our fermentation and baking, means it can take up to 38 hours to make a loaf.
"We don't use preservatives. We use the advantage of nature and we get flavor. The more time we invest, the more flavor and better crusts we get.
"It's a fantastic combination – an automated version of an artisan bakery with the bread baked on a bed of inch-thick Italian marble.
"The magic is brought by the competence of our staff. We add value to our products using the manual labor of our skilled team, but there is no skill in lifting a bakery tray. This is what we are trying to retain so that it will be more attractive to attract staff in the future.
"The room is air-conditioned, with the oven being in a separate room, so there is no temperature migration."
Equally excited was his brother Robin, the chief executive, who said the staff recruitment process was already underway.
The company is looking to hire 50 employees now and another 50 next year when a second shift is expected to kick in.

Terroir
The training will be provided in the company's internal Baking Academy.
Robin Jones said: "We are so proud because this is a world-class, multi-million pound facility and the products we make with it will change the face of bread making in the UK. United.
"Christien, his team and the suppliers have worked so hard to allow us to make a wide variety of breads and pastries. They did a brilliant job.
"This fantastic new production line represents a massive investment for us and I am really pleased with what we have developed.
"Our customers are ecstatic and I think when it launches in July it will be a game changer in the baking world.
"We plan to employ 100 additional people in the next 12 months.
"For the right people, there are great career opportunities at the Village Bakery – most of our managers and supervisors are from here.
"It's also an exciting time to join our successful team and help us make these incredible products.
"It would be a plus if candidates had experience in a bakery, but the fundamental requirement is to find people with the right attitude, because we can teach them the skills to become a top-notch baker.
"These are good, long-term jobs that will give a massive boost to the local economy in Wrexham and beyond."
Anyone wishing to find out more should email Jason Page at [email protected]
---
Support our Nation today
For the price of a cup of coffee per month, you can help us create an independent, not-for-profit national news service for the people of Wales, by the people of Wales.